Assalamualaikum w.b.t
Mula-mula aku plan nak amik je set bersalin yang aku pakai sebelum ni iaitu Salindah. Tapi sebab bila fikir-fikir balik set bersalin tu aku tak habis pun pakai. Pakai sekerat jalan je. Sebab die jenis pil berunsur hemeopati. Kena telan sekian-sekian biji. Takde jamu-jamu.
Nak dijadikan cerita aku blogwalking la belog the famos amos
kak Moon
terus terbaca entri pasal set bersalin Tanamera. Baca Punya baca aku terus macam ehh....syok la tengok set dia tu ala-ala treatment kat spa. Total set dia ada 11 item. Kesemua item aku suka la sangat. Sebab set dia totally memang untuk treatment luar dan dalam badan. Dan paling best dia 100% semulajadi. Takde campuran bahan kimia. Dan bukan terdiri dari ubat-ubat komersial. kesemua item dia dapat kelulusan dari kementerian kesihatan dan Halal dari JAKIM. Best kan?
Jom tengok apa yang ada dalam set Tanamera nih..yang ni aku kopipes dari
TANAMERA
...
TANAMERA postnatal care set
Our skin is alive and is the largest organ of our body. Anything that we apply on our skin is absorbed and processed by the various systems within our body. This is the foundation how our natural products help to strengthen and fortify new mother's healing in a shorter time.
TANAMERA postnatal care set contains 11 products that :
Are formulated based on traditional Malay, Chinese and Ayurvedic postnatal treatments to provide a natural solution for new mother's body to heal from the inside-out in a balanced manner, hormonally and physically.
Are made from plant-based 100% natural ingredients with emphasis on the use of tropical herbs and essential oils, with no artificial coloring, fragrance, preservative, toxic chemical nor 'jamu' which are harmful to babies.
Are designed to provide care during pregnancy to help prepare for smoother delivery, and care during confinement to help new mothers rest, recover and rejuvenate to prepregnancy body and shape, in the shortest time possible.
Are breastfeeding friendly and with aromatherapy effect to calm and soothe new mothers to faster recovery.
TANAMERA postnatal care set is retailed at RM360 in West Malaysia and RM370 in East Malaysia, including postage.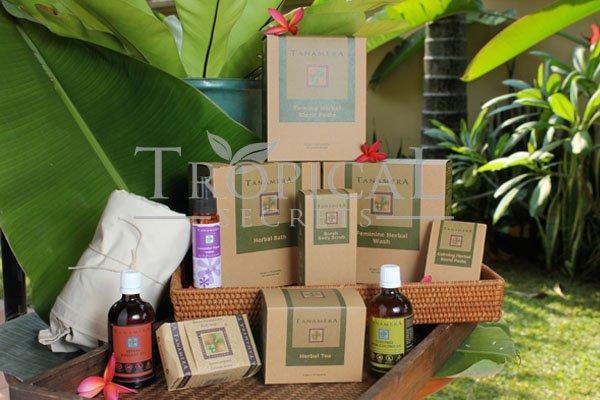 Each Tanamera Postnatal Care Set has 11 products to help new mothers recover and rejuvenate, in the shortest time possible

1 : Cold Pressed Virgin Coconut Oil

2 : Feminine Herbal Wash
3 : Herbal Bath

4 : Herbal Massage Oil
5 : Firming Herbal Blend Paste

6 : Abdominal Wrap
7 : Herbal Tea

8 : Calming Herbal Blend Paste
9 : Boreh Body Scrub

10 : Brown Formulation Soap

11 : Lavender Floral Water
Untuk details maklumat setiap satu item boleh je ke
TANAMERA
dan klik setiap satu gambar. Kat situ korang boleh baca maklumat penggunaan dan bahan-bahan yang digunakan.
Bila aku baca satu-satu. Rupa-rupanya tak syak lagi yang Set bersalin Tanamera ni dihasilkan dari sumber asli tumbuh tumbuhan herba yang memang selalu nenek-nenek kita gunakan masa berpantang. Macam kunyit hidup,lengkuas, manjakani etc..etc..cumanya dia dizahirkan dalam bentuk komersial je..kotak pun nampak exclusive kan. Tapi yang penting isi dalam dia tu Insya'Allah dapat beri manfaat pada tubuh badan. Dalam banyak-banyak item, aku paling suka VCO dan Brown Soap. Kalau lepas bersalin pun boleh je nak pakai..untuk tanggalkan daki-daki dan kerak-kerak kat badan...haha...VCO tu pulak elok untuk sapu kat kulit. Budak-budak pun boleh pakai. Sebab dia terhasil dari minyak kelapa dara. Selamat dan suci.
Lagi 1 dalam set ni xde jamu. Itu pun aku suka sebab aku memang tak suka minum jamu. Cukuplah masa pantang ritu mak aku paksa minum jamu yang dia buat sendiri. Pahit melekat. ekekekeke...
Setakat ni aku memang dah target nak beli ni je..Harga pun lebih kurang je dengan set-set bersalin yang lain. Harapnya aku dapatla berpantang dengan baik kali ni. Walaupun anak kedua tapi excited macam nak dapat anak pertama je...hehe..sapa dah lalui mesti faham punye la maksud aku nih..Hopely semua berjalan lancar la ye..Harap-harap masa bersalin nanti pun semuanya ok. Bersalin normal la kan..Insya'Allah hanya kepada Allah la tempat aku bergantung....ameenn...
Wassalam, EnaMokhtar